Getting started with PyTorch is very easy. The recommended option is to use the Anaconda Python Package Manager.
With Anaconda, it's easy to get and manage Python, Jupyter Notebook, and other commonly used packages, like PyTorch, for scientific computing and data science!
Prerequisites
1. Choose a plan and place an order.
2. Install NVIDIA® CUDA® Toolkit & cuDNN.
3. Python 3.7, 3.8 or 3.9 recommended.
Install PyTorch in 4 Steps
1. Download and install Anaconda (choose the latest Python version).
2. Go to PyTorch's site, specify the appropriate configuration options for your particular environment. Sample: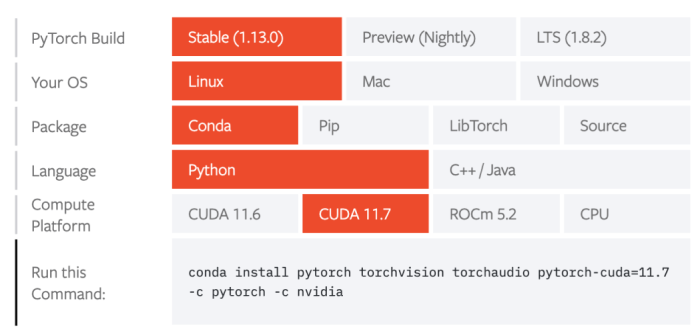 3. Run the presented command in the terminal to install PyTorch.
Sample:
conda install pytorch torchvision torchaudio pytorch-cuda=11.7 -c pytorch -c nvidia
4. Verify the installation
import torch
# check what version is installed
print(torch.__version__)
# construct a randomly initialized tensor
x = torch.rand(5, 3)
print(x)
# check if your GPU driver and CUDA is enabled and accessible
torch.cuda.is_available()